Détails
/fr/broadway-high-pigment-longwear-eyeliner/0607845081999.html
Numéro de l'article
0607845081999
Eyeliner Longue Tenue High-Pigment
Un crayon eyeliner de type gel fortement pigmenté, décliné en 16 teintes mates à métalliques offrant 12 heures de tenue.
PLUS
Rouge métallique brûlé
Fortement pigmenté. Hyper-précis. Hautement élégant. Sans retenue. Le nouvel Eyeliner High-Pigment Longwear apporte une intensité sans précédent en un seul passage. Sa formule fluide, de type gel, glisse sans effort et dépose instantanément une couleur riche. Celle-ci se fixe exactement là où vous le souhaitez et reste en place pendant 12 heures. Sa pointe à tailler définit les bords internes de l'œil et crée une ligne de cils floutée. Disponible dans 16 teintes, allant du mat au métallique. Tenace. Résistant. Irrésistible. Rien ne l'arrête.
DÉTAILS :
Tenue 12 heures
Résistant à l'humidité
Résistant à la sueur
Résistant à l'eau
Sans transfert
Peut se tailler
RENDU INTENSE ET INSTANTANÉ DE LA COULEUR

Une formule unique, qui glisse sans effort et offre un rendu riche et immédiat de la couleur.

COULEUR RICHE LONGUE TENUE

Sa formule gel longue tenue glisse en douceur sans accrocher ni déraper, et dure jusqu'à 12 heures.

APPLICATION POLYVALENTE POUR DE NOMBREUX LOOKS

Ce pinceau créatif est parfait pour dessiner une ligne précise, utiliser la technique du tightlining, estomper la couleur pour un effet smoky et appliquer du maquillage sur le bord interne de l'œil.
Pour une ligne précise façon tightlining :

VIA VENETO, une nuance noire pour le quotidien, peut être utilisée pour une application polyvalente.
Soulevez délicatement la ligne supérieure des cils et remplissez les espaces vides entre les racines des cils.
Continuez de tracer le trait le long du bord interne de l'œil, au niveau de la paupière supérieure, pour assombrir la ligne des cils.

Pour un look smoky :

appliquez GRAN VIA, une teinte noir profond, pour un regard brûlant.
Tracez un trait le long de la ligne des cils, puis estompez en progressant vers l'arête.
Superposez une ombre à paupières d'une nuance profonde, puis estompez et répartissez-la.

Conseils de pro :

utilisez THE STRIP comme base pour toute ombre à paupières afin d'ajouter un effet froid et lumineux, ou RODEO DRIVE pour apporter une nuance chaude et dorée.
Tracez un trait le long du bord interne de l'œil avec la teinte RUE BONAPARTE pour créer l'illusion d'un regard plus « éveillé » et éclatant, ou avec SANTA MONICA BLVD pour l'agrandir.
DIMETHICONE · SYNTHETIC WAX · TRIMETHYLSILOXYSILICATE · C20-24 ALKYL DIMETHICONE · SILICA · PHENYLPROPYLDIMETHYLSILOXYSILICATE · DICALCIUM PHOSPHATE · POLYETHYLENE · CALCIUM SILICATE · DISILOXANE · PENTAERYTHRITYL TETRA-DI-T-BUTYL HYDROXYHYDROCINNAMATE · RUBUS IDAEUS (RASPBERRY) LEAF EXTRACT · CAPRYLIC/CAPRIC TRIGLYCERIDE · POLYHYDROXYSTEARIC ACID · DISTEARDIMONIUM HECTORITE · PROPYLENE CARBONATE · SYNTHETIC FLUORPHLOGOPITE · CALCIUM ALUMINUM BOROSILICATE · CALCIUM SODIUM BOROSILICATE · TIN OXIDE · [+/- (MAY CONTAIN/PEUT CONTENIR): MICA · TITANIUM DIOXIDE (CI 77891) · BLUE 1 LAKE (CI 42090) · CARMINE (CI 75470) · FERRIC AMMONIUM FERROCYANIDE (CI 77510) · IRON OXIDES (CI 77491) · IRON OXIDES (CI 77499)] ·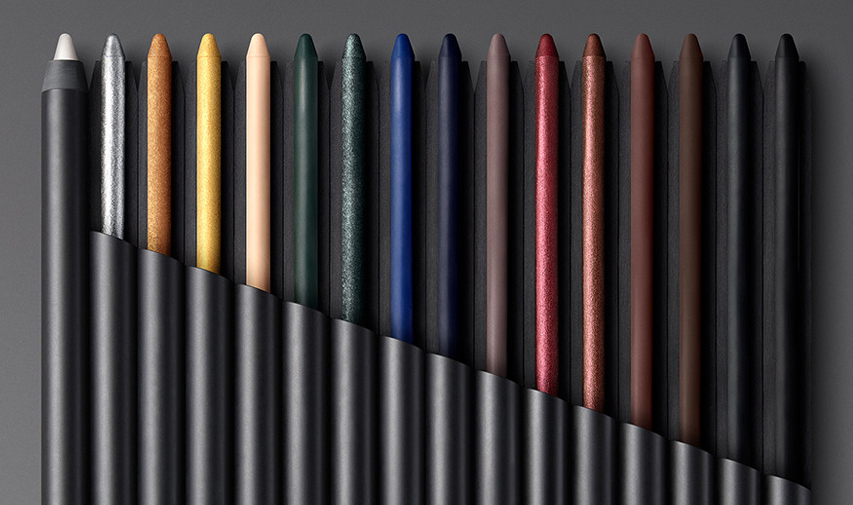 High-Pigment Longwear Eyeliner
est évalué de
5
de
316
.
Rated

1

de

5
de
GothicEyes
par
Listen to the Feedback
It's funny reading the NARS explanation for the changes because 1) I never experienced the issues they claim yet 2) I agree with the heard of people who have listed everything that's wrong with this new product. From the crazy effort it took to open the cap, to the flat tip it already has. I would have given this a try, but I sharped a sample pencil once that was made exactly like this and I KNOW how difficult that was to do and the sharp pieces that remained. These pencils costs too much for that mess and I don't trust that it will function for long. Listen to the feedback, NARS. You just lost my eyeliner business.
Date de publication: 2021-12-18
Rated

5

de

5
de
Zonia
par
Good Pencil
Very creative color. Goes on smoothly. Love it.
Date de publication: 2021-12-17
Rated

5

de

5
de
DebG
par
Love this eyeliner
I put it on in the morning and the end of the day it is exactly where I put in on the morning. Always looks like I just applied. Thank you
Date de publication: 2021-12-15
Rated

3

de

5
de
Gina B
par
High-Pigment Longwear Eyeliner
It was great when it used to be self advancing! Why did you change it? It's inconvenient to use a pencil sharpner.
Date de publication: 2021-12-14
Rated

5

de

5
de
DTNYC
par
Long Lasting and Beautiful Shade
This shade can be layered with other colors and makes a nice base alone. Would purchase this again.
Date de publication: 2021-12-14
Rated

2

de

5
de
Mt Lady
par
Didn't work for me
Color good but could not sharpen the pencil. Tried several different brands of sharpener including NARS.
Date de publication: 2021-12-14
Rated

5

de

5
de
Andrea
par
Pigmentación brutal
La pigmentación es increíble y dura muchísimo. Si que es verdad que en la línea de agua como tal no aguanta muchísimo, pero igualmente luego no pareces un panda. El verde es muy oscuro, salvo cuando te da la luz, pero es muy bonito
Date de publication: 2021-12-09
Rated

4

de

5
de
Pandora 1
par
Nice eyeliners !
Great staying power! I've tried 3 colors: black, Grafton, and mambo. I deducted one star for the Mambo color because the Mambo (brown ) takes on a red hue after wearing for awhile. I was not able to get a thin,fine line but the line I did get really stayed on all day.
Date de publication: 2021-12-08
Rated

1

de

5
de
TJol
par
Why change a good thing
The old pencil was perfect. No sharpener was needed. This new one has a odd edge that is. It easy to sharpen. They want you to buy the NARS sharpener. Too bad they changed the whole style.
Date de publication: 2021-12-05
Rated

1

de

5
de
Speedy
par
Terrible
I loved this product before it was changed to it's current form. Since the change it does not go on smoothely, clumping to the point that I now use a different brand. NARS should have left it alone!
Date de publication: 2021-12-04
Rated

2

de

5
de
Shawnita
par
Unfortunately this pencil grinds down quickly
The pigment is amazing, it makes my eyes come alive
Date de publication: 2021-12-03
Rated

4

de

5
de
Kat R
par
Like but don't love it.
This is great to do a smoky eye….it's not as creamy as I expected for blending making it a little hard to blend.
Date de publication: 2021-12-03
Rated

2

de

5
de
Smw24
par
Lovely Eyeliner but breaks easily
Lovely eyeliner with very unusual colour, however the lead part falls out after sharpening and is very difficult to work with.
Date de publication: 2021-11-27
Rated

1

de

5
de
EllenElizabeth
par
Completely dried out
Half way through the pencil and it's completely dried out. Also the pencil is inconsistent width which is causing sharpening issues. Too much headache for a formula that leaves something to be desired. I never had the twistable dry out. I have exclusively purchased nars eyeliner for 10 years. Looking elsewhere if anyone has any suggestions. So sad. Please bring back the old formula.
Date de publication: 2021-11-10
Rated

5

de

5
de
AGentile
par
Best eye liner ever!
[This review was collected as part of a promotion.] Best eye liner ever. Hands down.
Date de publication: 2021-10-24
Rated

1

de

5
de
Gaby
par
Does not go on smooth, tugs at skin
I thought I was the only one because my eyes are small but seems like a lot of people are having issues with the quality. I have not been able to successfully apply this to my eyes, cannot sharpen enough to be precise and pulls on my skin. I cannot apply it without holding my skin back. Very difficult to use and have stopped using it because of it. Not to mention, that a large chunk of it just fell off the pencil for absolutely no reason. Was excited to use this colour but Not a great product.
Date de publication: 2021-10-12
Rated

2

de

5
de
Tati Shugs
par
Great until it needs to be sharpened…. Bummer
Bought from Sephora. Great pigment and it lasts throughout the day and on to the next, even after swimming! What stinks about it is how difficult it is to sharpen. I'm torn between returning it or exchanging for a new one each time it needs to be sharpened (I wouldn't really but I'm sure someone has) because I truly love the coverage. I wanted to love the liner as a whole but I do not. I miss the old design and being able to actually use it! Pigment and the ability to last 5 out of 5. Design 1 out of 5 (could've just been a piece of kohl)
Date de publication: 2021-10-10
Rated

1

de

5
de
OCmom
par
Need to return to the old version
I have used Nars eyeliners in Mambo and Black Moon for years. This new version/formula of Mambo is really disappointing. It goes on differently and the the Black Moon is discontinued. If they do not return to the other application/formula's...I will no longer be a customer of Nars.
Date de publication: 2021-10-03
Rated

1

de

5
de
FiFi031
par
Bring back twistables !!!
Disappointing just doesn't describe this 'new' product. I used to love NARS products and could not rave about them enough. Absolutely loved the old version - twistables with the sharpener. Now, this new pencil is so so rubbish. Do not waste your money girls. I wish I listened to the previous reviewers.
Date de publication: 2021-10-02
Rated

1

de

5
de
Hermi
par
Malisimo
Compre este producto la semana pasada,la punta se rompe muy fácilmente impregnando las pestañas.Demasiado caro para la calidad del producto
Date de publication: 2021-09-22
Rated

1

de

5
de
Jules1
par
Extremely disappointing
I used to use this as the older style pencil - really dont like the new one - not user friendly and cannot sharpen unless apparently you purchase the specifically required sharpener.
Date de publication: 2021-09-06
Rated

1

de

5
de
Disappointed Ron
par
Disappointing
Used to use this all the time when it was a twist up pencil. This new version which has to be sharpened is not user friendly. It is very difficult to sharpen. It breaks and the tip falls out. When it does sharpen it sometimes doesn't sharpen easily and you end up with it scraching your eyelid with the section that didn't quite shapen - like a pencil that only sharpens on one side. This used to be the top rated eyeliner and it is one of the lowest rated. You would think this would be a concern for the company and they would consider going back to the original. No luck. Finding a new eyeliner and or course when this happens I usually start to use their other products. Looks like NARS might be history for me.
Date de publication: 2021-09-01
Rated

4

de

5
de
Allllllll
par
Gorgeous colours but miss the old formula
I like these pencils and I LOVE the colour range. Via Appia used to be my favourite eyeliner untill it was discontinued. Mullholand is close enough so I love that one and Mambo. Although the colours are great, I think the old formula was so much better and lasted way longer on the eyes.
Date de publication: 2021-08-30
Rated

1

de

5
de
Poppy8
par
appalling eyeliner pencil
I Have used this product for years, but since the introduction of the new system I will never buy another one. First of all my last pencil had no eyeliner in it half way down the pencil and then with my new one the top wouldn't come off and in trying to twist it, it broke in half. - Never again, I'll find an alternative that I'm sure will work better
Date de publication: 2021-08-19
Rated

1

de

5
de
Jax1954
par
How to extend the actual product to use.
I bought this today and cannot use it as the eyeliner is practically inside of the cover. How on earth are you suppose to use it if the top is barely visible, I am returning this ASAP.. Very disappointed.
Date de publication: 2021-08-16
Rated

5

de

5
de
Longhorngal1996
par
I have gone through 3 of these!
Such an intense, opaque, long lasting silver color. Looks amazing by itself or with a cool look. Please Nars- please- NEVER DISCONTINUE THIS COLOR!
Date de publication: 2021-08-03
Rated

1

de

5
de
JJ2002
par
I miss the old twist up pencil
I was just checking back to see if I could find the twist-up pencil. I LOVE these colors!! I stockpiled the old twist-up pencil, and now I'm out. I tried these with the sharpener, and they went way too fast for the money. These are too tedious to use every day.
Date de publication: 2021-08-02
Rated

2

de

5
de
Gj98
par
Intense colour but poor compared to old version
The older version was 10x better. The twist up function lasted longer and seemed to stay on the face better. Shame-will be finding an alternative after years of using the twist version:/
Date de publication: 2021-08-02
Rated

3

de

5
de
HG CT
par
Great color, but ...
The color is rich and beautiful. The product goes on too thick. It's a lot! The pencil is soft and clumsy to sharpen to a point as fine as I'd like. In short, it's great if you want to schmear it on your face. If you prefer more control, you, like I, will find it just shy-of-deal-breaker annoying.
Date de publication: 2021-07-25
Rated

4

de

5
de
Kristine D
par
It's good
It's creamy and it's long wearing but it needs sharpened after almost every use.
Date de publication: 2021-07-20
bvseo_sdk, dw_cartridge, 16.1.1, p_sdk_3.2.0
CLOUD, getContent, 133ms
reviews, product