Détails
/fr/broadway-high-pigment-longwear-eyeliner/0607845081999.html
Numéro de l'article
0607845081999
Eyeliner Longue Tenue High-Pigment
Un crayon eyeliner de type gel fortement pigmenté, décliné en 16 teintes mates à métalliques offrant 12 heures de tenue.
PLUS
Rouge métallique brûlé
Fortement pigmenté. Hyper-précis. Hautement élégant. Sans retenue. Le nouvel Eyeliner High-Pigment Longwear apporte une intensité sans précédent en un seul passage. Sa formule fluide, de type gel, glisse sans effort et dépose instantanément une couleur riche. Celle-ci se fixe exactement là où vous le souhaitez et reste en place pendant 12 heures. Sa pointe à tailler définit les bords internes de l'œil et crée une ligne de cils floutée. Disponible dans 16 teintes, allant du mat au métallique. Tenace. Résistant. Irrésistible. Rien ne l'arrête.
DÉTAILS :
Tenue 12 heures
Résistant à l'humidité
Résistant à la sueur
Résistant à l'eau
Sans transfert
Peut se tailler
RENDU INTENSE ET INSTANTANÉ DE LA COULEUR

Une formule unique, qui glisse sans effort et offre un rendu riche et immédiat de la couleur.

COULEUR RICHE LONGUE TENUE

Sa formule gel longue tenue glisse en douceur sans accrocher ni déraper, et dure jusqu'à 12 heures.

APPLICATION POLYVALENTE POUR DE NOMBREUX LOOKS

Ce pinceau créatif est parfait pour dessiner une ligne précise, utiliser la technique du tightlining, estomper la couleur pour un effet smoky et appliquer du maquillage sur le bord interne de l'œil.
Pour une ligne précise façon tightlining :

VIA VENETO, une nuance noire pour le quotidien, peut être utilisée pour une application polyvalente.
Soulevez délicatement la ligne supérieure des cils et remplissez les espaces vides entre les racines des cils.
Continuez de tracer le trait le long du bord interne de l'œil, au niveau de la paupière supérieure, pour assombrir la ligne des cils.

Pour un look smoky :

appliquez GRAN VIA, une teinte noir profond, pour un regard brûlant.
Tracez un trait le long de la ligne des cils, puis estompez en progressant vers l'arête.
Superposez une ombre à paupières d'une nuance profonde, puis estompez et répartissez-la.

Conseils de pro :

utilisez THE STRIP comme base pour toute ombre à paupières afin d'ajouter un effet froid et lumineux, ou RODEO DRIVE pour apporter une nuance chaude et dorée.
Tracez un trait le long du bord interne de l'œil avec la teinte RUE BONAPARTE pour créer l'illusion d'un regard plus « éveillé » et éclatant, ou avec SANTA MONICA BLVD pour l'agrandir.
DIMETHICONE · SYNTHETIC WAX · TRIMETHYLSILOXYSILICATE · C20-24 ALKYL DIMETHICONE · SILICA · PHENYLPROPYLDIMETHYLSILOXYSILICATE · DICALCIUM PHOSPHATE · POLYETHYLENE · CALCIUM SILICATE · DISILOXANE · PENTAERYTHRITYL TETRA-DI-T-BUTYL HYDROXYHYDROCINNAMATE · RUBUS IDAEUS (RASPBERRY) LEAF EXTRACT · CAPRYLIC/CAPRIC TRIGLYCERIDE · POLYHYDROXYSTEARIC ACID · DISTEARDIMONIUM HECTORITE · PROPYLENE CARBONATE · SYNTHETIC FLUORPHLOGOPITE · CALCIUM ALUMINUM BOROSILICATE · CALCIUM SODIUM BOROSILICATE · TIN OXIDE · [+/- (MAY CONTAIN/PEUT CONTENIR): MICA · TITANIUM DIOXIDE (CI 77891) · BLUE 1 LAKE (CI 42090) · CARMINE (CI 75470) · FERRIC AMMONIUM FERROCYANIDE (CI 77510) · IRON OXIDES (CI 77491) · IRON OXIDES (CI 77499)] ·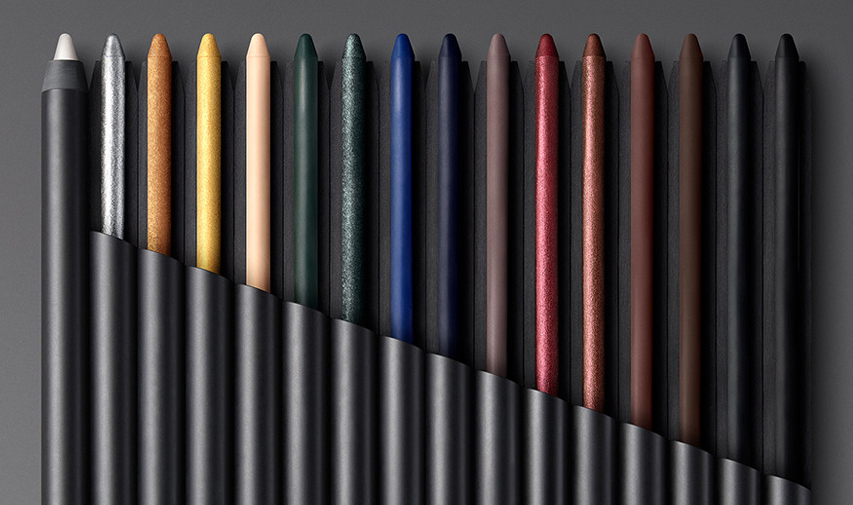 High-Pigment Longwear Eyeliner
est évalué de
5
de
205
.
Rated

1

de

5
de
bruck009
par
Why so hard to open?
I received this Nars eyeliner from Sephora and broke it trying to get the cap off..got another one and same issue? There isnt any wrap or anything on it...how do you use this?
Date de publication: 2021-02-18
Rated

1

de

5
de
AllieF
par
Used to be holy grail
Larger than life used to be my holy grail in Via Veneto. I have now returned this twice, because I could not figure out how to sharpen or twist up. Also, the formula is MUCH different. It used to stay all day. Now it bleeds onto my skin within the first few hours. Will be finding a new eyeliner from now on. Why fix what wasn't broken?
Date de publication: 2021-02-17
Rated

1

de

5
de
Irina
par
Hard to use
Easy to sharpen, but nothing like a regular pencil, regret that went with this one. Hard to apply on high shine eye shadows, it just slides, without leaving a line.
Date de publication: 2021-02-15
Rated

2

de

5
de
Heidi 123
par
No twist up??? Ugh
Had the damndest time figuring out this product needed a sharpener. Ugh so disappointed.
Date de publication: 2021-02-07
Rated

1

de

5
de
Mlitton
par
New formula is terrible
Nars eyeliner in Via Veneto has been my holy grail for years, but once they introduced the new formula, I was forced to stop buying it due to extremely poor staying power, precision and control. I cannot express how sad I am that they've changed the formula rather than adding a completely new eyeliner since they are nothing alike. My old pencil would last me months and was impossible to smudge. The new version is far too soft, gives me raccoon eyes and dwindles down to a nub within a month because it's impossible to keep a sharp point without constantly sharpening the pencil. I've tried so many brands in attempt to find a suitable replacement, but nothing compares to their original formula. Customer satisfaction and reviews are suffering. PLEASE BRING BACK THE ORIGINAL!!!!
Date de publication: 2021-01-31
Rated

1

de

5
de
Julie50
par
Not the same as my past Nars eyeliners
I wish I'd read the reviews before purchasing. My past eyeliner pencils looked different (wood end) and sharpened easily and lasted a very long time. After one try, I see Nars has changed up their pencils. This one is not acceptable. Doesn't go on smoothly, had specks all over my face and not usable on waterline. Wish I could find the older version! I'll be sending back.
Date de publication: 2021-01-25
Rated

1

de

5
de
cellcen
par
IMPOSSIBLE TO USE
I am not getting a sharp tip from sharpening, and the tip breaks off easily. The tip broke off on the first try. I kept trying to apply it gently but it's been broken off three times so it's impossible to use.
Date de publication: 2021-01-23
Rated

5

de

5
de
Bronzerwhigirl
par
Yes!
Yes to the blackest eyeliner!
Date de publication: 2021-01-22
Rated

5

de

5
de
Estemar
par
Nice and smooth!
[This review was collected as part of a promotion.] Beautiful color and excellent quality! Love the texture and how it looks so soft and natural. My favorite so far....
Date de publication: 2021-01-21
Rated

1

de

5
de
Pennybutts
par
Hugely Disappointing
Does not go on at all easily. I expected it to glide on as per the online tutorial. Perhaps not suitable for older eyelids!
Date de publication: 2021-01-18
Rated

1

de

5
de
Gracie01
par
Not Happy with Pencil
I was excited about this purchase. Used it twice, then realized, how do I sharpen it? The pencil housing is made of plastic. I can't easily sharpen it with my sharpener. I don't think I should have to purchase a new sharpener specifically for this liner. That would categorize it as a scam. It's disappointing. Would you recommend anything else besides selling your sharpener?
Date de publication: 2021-01-15
Rated

5

de

5
de
HyeonJu
par
Good
Good color
Date de publication: 2020-12-29
Rated

1

de

5
de
Anonyme
par
Don't waste money
It's very little and it isn't good. I won't buy it again.
Date de publication: 2020-12-29
Rated

4

de

5
de
Agomi
par
Dura muchísimas horas
Me encanta, dura muchas horas, se aplica fácilmente pero como se saca punta ???
Date de publication: 2020-12-25
Rated

4

de

5
de
Thresa
par
Eyeliner
Glides on smooth and very rich color.
Date de publication: 2020-12-21
Rated

5

de

5
de
Jass
par
LOVE it!
Soft khol texture, super creamy so simply glides on the eyelid. Highly pigmented, long lasting and easy to blend into a soft smokey look. Not ideal for the waterline though.
Date de publication: 2020-12-20
Rated

4

de

5
de
pro makeup artist
par
good eyeliner
very creamy application, great color. Wish it was self sharpening so I didn't have to waste product.
Date de publication: 2020-12-18
Rated

5

de

5
de
voguette
par
A Keeper
Awesome Texture that is smooth and consistent saturated hue!
Date de publication: 2020-12-18
Rated

5

de

5
de
SofiaA
par
The perfect eyeliner
Crémeux, facile à appliquer, longue durée... c'est le eyeliner parfait, à la couleur discrète et intense en même temps. Impossible de trouver meilleur.
Date de publication: 2020-12-16
Rated

5

de

5
de
AlliR
par
My Favorite Liner!
I have bought this in 3 colors so far and just love it (Via Veneto, Night Porter, and Haight-Ashbury). It is soft and provides a lot of pigment, which means that it needs to be sharpened frequently, but I think it's a small price to pay for the look and quality you get. If it were harder, it wouldn't go on as smoothly. I sometimes sharpen it between eyes to keep the look uniform if I'm going for a really defined liner look. It dries quickly and stays on all day without smudging. It's a new favorite- glad I found it!
Date de publication: 2020-12-14
Rated

1

de

5
de
Ff20
par
Not impressed
They seem very draggy & chalky the long wear liner ?
Date de publication: 2020-12-09
Rated

2

de

5
de
stacia
par
Confusing eyeliner
How do you twist the pencil up to get more eye liner?
Date de publication: 2020-12-08
Rated

4

de

5
de
kdhbarnes
par
It is so difficult to remove the cap from the eyeliner pencil. Is there a trick to it? It's very frustrating.
Date de publication: 2020-12-02
Rated

5

de

5
de
Rose_chic
par
Nars pigmented longwear liner
Very pigmented liner highly recommend love love love!
Date de publication: 2020-12-01
Rated

1

de

5
de
JSantilllan
par
So sad they changed it!!
I thought I had finally found MY eyeliner. However they changed it from twist up to sharpener and changed the formula. It absolutely does not last as long as their old formula and now you have to constantly sharpen it. I have to sharpen it almost every use and it snaps easily when sharpening because it is so soft.
Date de publication: 2020-11-28
Rated

1

de

5
de
Columnista
par
The old version was superior
I agree with the many reviewers here who miss the old twist and self sharpen version. The new one is impossible to sharpen well and splinters on attempt. $30 down the drain.
Date de publication: 2020-11-25
Rated

3

de

5
de
JenLovesMakeup
par
Def Not "Larger Than Life Long-wear Eyeliner"
I've used the "Larger Than Life Long-wear Eyeliner" for years. It was the best eyeliner out there. Didn't irritate my eyes at all-they can be sensitive. Stayed on all day. It was so convenient with the twist up. I've never had mine dry out and I've had some of the colors I would only use occasionally for years. It would glide right on. This new formula eyeliner is mediocre and comparable to all the other brands. Needs constant sharpening. It bleeds around my eyes in half the time. One of the ones I bought recently was too big for a normal sharpener. It must have been defective. Too much money to spend on a mediocre product in my opinion. PLEASE bring back the old eyeliner.
Date de publication: 2020-11-25
Rated

2

de

5
de
Miss Penelope
par
Why change a great product
I have been using these eye pencils for many years and have bought both dark grey and Rue St Honore (dark blue) regularly and LOVED them. Since it is no longer a 'twist up' and a sharpen only, I am going through them so quickly and as has been mentioned quite often the sharpened part breaks off therefore losing a lot of product quickly. The holding power is exceptional, however, if another product rivals this one with a 'twist up' I wont hesitate to switch.
Date de publication: 2020-11-23
Rated

5

de

5
de
Brittknee
par
Smooth like butter..
This eyeliner is like butter..so smooth and creamy..I have watery eyes so most "long lasting" eye liners do not last..THIS STUFF is amazing! Yes you have to sharpen often but honestly I rather sharpen often then to keep on applying because it's coming off.. Great job Nars I will never use anything else!
Date de publication: 2020-11-19
Rated

5

de

5
de
MezzoMama
par
So smooth!
I love this eyeliner! It goes on so smooth, and it wears all day without budging! I was surprised, like other reviewers, that it was not a twist to sharpen pencil, but once I figured out that you needed a sharpener, it was perfect! It sharpens really beautifully—no splintery edges. I have a terrible time getting liquid eyeliners to behave like I want, and this gives me the look with a lot more control. I LOVE this liner!
Date de publication: 2020-11-19
bvseo_sdk, dw_cartridge, 16.1.1, p_sdk_3.2.0
CLOUD, getContent, 151ms
reviews, product