Détails
/fr/broadway-high-pigment-longwear-eyeliner/0607845081999.html
Numéro de l'article
0607845081999
Eyeliner Longue Tenue High-Pigment
Un crayon eyeliner de type gel fortement pigmenté, décliné en 16 teintes mates à métalliques offrant 12 heures de tenue.
PLUS
Rouge métallique brûlé
Fortement pigmenté. Hyper-précis. Hautement élégant. Sans retenue. Le nouvel Eyeliner High-Pigment Longwear apporte une intensité sans précédent en un seul passage. Sa formule fluide, de type gel, glisse sans effort et dépose instantanément une couleur riche. Celle-ci se fixe exactement là où vous le souhaitez et reste en place pendant 12 heures. Sa pointe à tailler définit les bords internes de l'œil et crée une ligne de cils floutée. Disponible dans 16 teintes, allant du mat au métallique. Tenace. Résistant. Irrésistible. Rien ne l'arrête.
DÉTAILS :
Tenue 12 heures
Résistant à l'humidité
Résistant à la sueur
Résistant à l'eau
Sans transfert
Peut se tailler
RENDU INTENSE ET INSTANTANÉ DE LA COULEUR

Une formule unique, qui glisse sans effort et offre un rendu riche et immédiat de la couleur.

COULEUR RICHE LONGUE TENUE

Sa formule gel longue tenue glisse en douceur sans accrocher ni déraper, et dure jusqu'à 12 heures.

APPLICATION POLYVALENTE POUR DE NOMBREUX LOOKS

Ce pinceau créatif est parfait pour dessiner une ligne précise, utiliser la technique du tightlining, estomper la couleur pour un effet smoky et appliquer du maquillage sur le bord interne de l'œil.
Pour une ligne précise façon tightlining :

VIA VENETO, une nuance noire pour le quotidien, peut être utilisée pour une application polyvalente.
Soulevez délicatement la ligne supérieure des cils et remplissez les espaces vides entre les racines des cils.
Continuez de tracer le trait le long du bord interne de l'œil, au niveau de la paupière supérieure, pour assombrir la ligne des cils.

Pour un look smoky :

appliquez GRAN VIA, une teinte noir profond, pour un regard brûlant.
Tracez un trait le long de la ligne des cils, puis estompez en progressant vers l'arête.
Superposez une ombre à paupières d'une nuance profonde, puis estompez et répartissez-la.

Conseils de pro :

utilisez THE STRIP comme base pour toute ombre à paupières afin d'ajouter un effet froid et lumineux, ou RODEO DRIVE pour apporter une nuance chaude et dorée.
Tracez un trait le long du bord interne de l'œil avec la teinte RUE BONAPARTE pour créer l'illusion d'un regard plus « éveillé » et éclatant, ou avec SANTA MONICA BLVD pour l'agrandir.
DIMETHICONE · SYNTHETIC WAX · TRIMETHYLSILOXYSILICATE · C20-24 ALKYL DIMETHICONE · SILICA · PHENYLPROPYLDIMETHYLSILOXYSILICATE · DICALCIUM PHOSPHATE · POLYETHYLENE · CALCIUM SILICATE · DISILOXANE · PENTAERYTHRITYL TETRA-DI-T-BUTYL HYDROXYHYDROCINNAMATE · RUBUS IDAEUS (RASPBERRY) LEAF EXTRACT · CAPRYLIC/CAPRIC TRIGLYCERIDE · POLYHYDROXYSTEARIC ACID · DISTEARDIMONIUM HECTORITE · PROPYLENE CARBONATE · SYNTHETIC FLUORPHLOGOPITE · CALCIUM ALUMINUM BOROSILICATE · CALCIUM SODIUM BOROSILICATE · TIN OXIDE · [+/- (MAY CONTAIN/PEUT CONTENIR): MICA · TITANIUM DIOXIDE (CI 77891) · BLUE 1 LAKE (CI 42090) · CARMINE (CI 75470) · FERRIC AMMONIUM FERROCYANIDE (CI 77510) · IRON OXIDES (CI 77491) · IRON OXIDES (CI 77499)] ·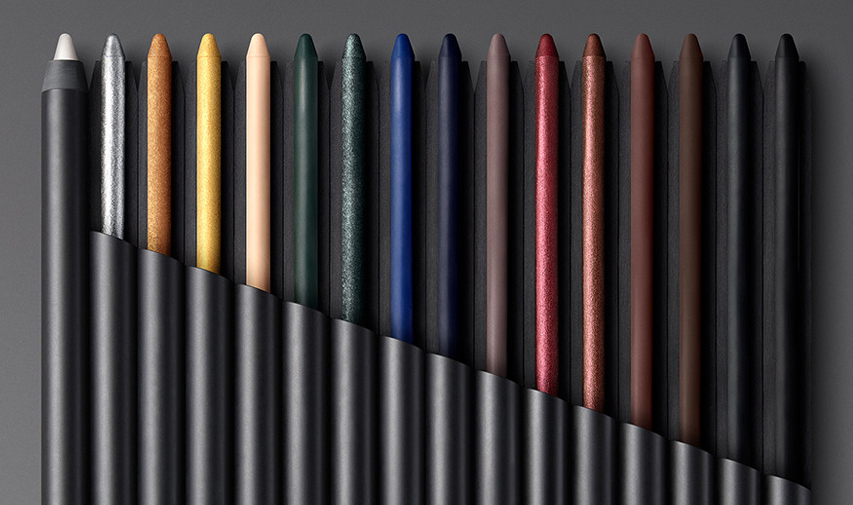 High-Pigment Longwear Eyeliner
est évalué de
5
de
278
.
Rated

2

de

5
de
Gj98
par
Intense colour but poor compared to old version
The older version was 10x better. The twist up function lasted longer and seemed to stay on the face better. Shame-will be finding an alternative after years of using the twist version:/
Date de publication: 2021-08-02
Rated

3

de

5
de
HG CT
par
Great color, but ...
The color is rich and beautiful. The product goes on too thick. It's a lot! The pencil is soft and clumsy to sharpen to a point as fine as I'd like. In short, it's great if you want to schmear it on your face. If you prefer more control, you, like I, will find it just shy-of-deal-breaker annoying.
Date de publication: 2021-07-25
Rated

4

de

5
de
Kristine D
par
It's good
It's creamy and it's long wearing but it needs sharpened after almost every use.
Date de publication: 2021-07-20
Rated

5

de

5
de
Beea
par
Quality of product
Beautiful product quality , creates deep brown effect with soft pencil tip to allow for effortless application
Date de publication: 2021-07-17
Rated

5

de

5
de
Anonyme
par
Ocean drive eyeliner
The color is deep and rich and spreads easily and consistently. Cool vivid blue color - 1980s Malibu / sunset strip / Heather Locklier hot!
Date de publication: 2021-07-13
Rated

1

de

5
de
flao
par
bring the old twist up back
i echo the sentiments of so many others. i don't understand why you had to change from the twist up with the sharpener built in the handle to one that needs to be sharpened and is just like any other pencil?!?! everything about the previous version was perfect and i'd used it for years. i'm disappointed since now i need to find something else because i no longer want to use this.
Date de publication: 2021-07-04
Rated

1

de

5
de
Emmma13
par
Horrible Product
I purchased this in Park Ave, desperate for a quality dark blue liner. The performance of this pencil is horrible when applying and sharpening. It smudges easily and the tip is so soft it's hard to maintain a consistent line as any pressure flattens the tip making it a thicker line when applying. A big waste of money. Extremely disappointed.
Date de publication: 2021-06-25
Rated

3

de

5
de
CASEYCASEMENT
par
Arrived defective
It seemed like a nice pensilbut would not twist to raise ended up breaking it while I tried. Can't imagine they're all like this maybe mechanism broken
Date de publication: 2021-06-23
Rated

5

de

5
de
Fliss
par
My favourite eyeliner ever. Highly recommend. Grea
Long lasting colour. Gentle on the skin. Great range of colours.
Date de publication: 2021-06-22
Rated

1

de

5
de
I want my money back
par
Confused
Not sure if I got a dud, but there was no way for me to sharpen or raise my pencil so I could only use it twice. I had at least 5 other people look at it too, no one could figure it out
Date de publication: 2021-06-21
Rated

5

de

5
de
KML101
par
Love
[This review was collected as part of a promotion.] Love this eyeliner
Date de publication: 2021-06-16
Rated

5

de

5
de
Mar1128
par
Great product
It helps my eyes stand out and lasts all day
Date de publication: 2021-06-06
Rated

1

de

5
de
SA1971
par
Previous eyeliner pencil much better.
Doesn't sharpen easily, much is wasted as the center falls out. Previous velvet eyeliner pencil much better.
Date de publication: 2021-05-31
Rated

2

de

5
de
Trusshopper
par
Great colour, coverage and lasts all day BUT .....
This eyeliner is a great colour, covers lower and inner top eye line well, but here the superlatives stop. I figured out you sharpen it with their sharpener, but sometimes as you sharpen it a whole length just drops out, sometimes this happens whilst you're applying it. I started using a new one a couple of weeks ago and am now ordering a new one as I don't think it will last the next couple of weeks due to breakages just mentioned ! The lid can be really difficult to get off, but if you leave it off, the 'lead' dries out and won't line your eyes - just not fit for purpose. Have been trying to find an alternative but can't find a colour deep enough to show true blue on my fair black skin tone. Very frustrated !! I didn't know the roll on version, but sounds like you need to bring that back in Park Avenue blue, please. It is a very expensive product and when it goes down due to bits of 'lead' falling out that's not fair on the customer having to replace it at an exorbitant price.
Date de publication: 2021-05-27
Rated

1

de

5
de
Ksensema
par
Too soft
I was pressured into buying this product at Sephora. It does not sharpen well , very un even and crumbly. It's too soft and the tip breaks off much to often. It also smudges Terrible product
Date de publication: 2021-05-23
Rated

4

de

5
de
No name works!
par
Great liner but too shiny
[This review was collected as part of a promotion.] Great product but shinier than depicted in photo
Date de publication: 2021-05-19
Rated

2

de

5
de
Paul Stanley
par
Was hoping for more
It goes on smooth and it looks fabulous....for a while . I use the creamy concealer, this pencil melts off after a few short hours. Having said that, this is the longest lasting pencil while using this particular eyeliner.
Date de publication: 2021-05-05
Rated

5

de

5
de
Sherri G
par
Best Eyeliner
Goes on smooth and provides and intense color that lasts
Date de publication: 2021-05-03
Rated

5

de

5
de
MJaxty
par
Good Pencil
Stays on all day, no smudging even with contacts and eye drops. Mambo color is nice but red undertones
Date de publication: 2021-04-30
Rated

5

de

5
de
Hauser5
par
My fav eyeliner!
I love this liner! I have very oily skin/lids and this product lasts all day! And that is very hard to fine! It glides on, sharpen to the point you like! Lasted about 7 mn in covid conditions, so wearing 3-4 times a week! I'm excited to order my 2nd one, this time I'll get more colors. Love the shimmer!!!
Date de publication: 2021-04-22
Rated

4

de

5
de
Marnie
par
Good liner, but different formulas?
I love the liner- goes on smoothly, good staying power. I had been using Via Veneto, but I decided to try Gran Via, as I wanted something matte. The color is good, but it almost seems like different formula- does not glide on, takes several swipes to get a solid line, and didn't stay as well. Has anyone else noticed this?
Date de publication: 2021-04-21
Rated

5

de

5
de
Smilie
par
Love Love
It's amazing how many are saying such bad thing!! If I would of read the reviews I probably would have never gotten this but I was on the market for a GOOD brown eye liner so I got Mambo and I am IN LOVE with this I am going to buy more. It blends well and I have enough time to smudge before it sets and stays!! I would recommend this but everyone is different! But for me it's my new and really only pencil I will be using
Date de publication: 2021-04-20
Rated

1

de

5
de
tatadiaz
par
High-pigment longwear eyeliner
This eyeliner is super waxy. It tugs the skin of my eyes and I have to press it really hard for it to deliver any pigment. I think it's gone bad, even though I just bought it. I've tried warming it up with my hands but it doesn't work.
Date de publication: 2021-04-20
Rated

1

de

5
de
Swoosan
par
Eyeliner
Difficult to use - doesn't apply smoothly.
Date de publication: 2021-04-08
Rated

1

de

5
de
Jjchill
par
Terrible
Unless my high pigment black eyeliner pencil was flawed, Im very disappointed. I have had for only 3 weeks and its flattened down to nothing. I only wear it 3 times aweek, and for the price of $31.00, Iost definitely wont be a returning customer to Nars.
Date de publication: 2021-04-07
Rated

1

de

5
de
Mid-30s reviewer
par
Disappointing eye pencil
I would not recommend this eyeliner pencil. I really like the formula of NARS velvet lip pencils, but this did not live up to other products. The cap to my pencil was on so tightly I could not pry it off, and the pencil snapped in this process. I was able to sharpen the pencil from the inside out, but the product itself was dry and did not glide on easily (not much pigment, pulled at eyelids). Prefer to keep using Quickliner Pencils from Clinique.
Date de publication: 2021-04-05
Rated

1

de

5
de
SMCG
par
Worst eyeliner ever
Does not sharpen Works perfectly until you need to sharpen it Not worth the high price tag Very disappointing
Date de publication: 2021-04-02
Rated

1

de

5
de
CRC
par
Bring back the old Via Appia roll-up eye liner
Please bring back Via Appia roll-up eyeliner. The replacement pencil end snaps off, it's happened to the last four I've bought and the pencil subsequently dries out. Been a loyal customer for years, now shopping around for another make-up brand to switch to. LISTEN TO THE CUSTOMER FEEDBACK!
Date de publication: 2021-04-02
Rated

1

de

5
de
Miss Wolff
par
Bring back the old roll-out version!
I bought your new version of this eyeliner and I am greatly disappointed. I have been a super loyal Nars-user for as long as I can remember, especially of your Larger Than Life Eyeliner. It was perfect. There was absolutely no problem with it at ALL. It was easy to use and had a fine sustainability. Your new version is impossible to figure out. There are no instructions on how to use it, and there is certainly no mentioning of a pencil sharpener. I was very happy with the roll-out version. Now I have to carry around a pencil sharpener wherever I go and that is super annoying. It feels like you are changing the product for the consumer to use it faster, so you can make more money. BRING BACK THE OLD ROLL-VERSION, PLEASE!
Date de publication: 2021-03-27
Rated

5

de

5
de
Mandalou
par
The Best Under Eye Liner
I don't understand the negative reviews. I had absolutely no issue sharpening this with a cheap drug store sharpener. It doesn't smudge and is one of the few liners that doesn't leave me looking like a raccoon. It lasts all day and the formula is so smooth. I will definitely purchase more!
Date de publication: 2021-03-21
bvseo_sdk, dw_cartridge, 16.1.1, p_sdk_3.2.0
CLOUD, getContent, 143ms
reviews, product