Détails
/fr/broadway-high-pigment-longwear-eyeliner/0607845081999.html
Numéro de l'article
0607845081999
Eyeliner Longue Tenue High-Pigment
Un crayon eyeliner de type gel fortement pigmenté, décliné en 16 teintes mates à métalliques offrant 12 heures de tenue.
PLUS
Rouge métallique brûlé
Fortement pigmenté. Hyper-précis. Hautement élégant. Sans retenue. Le nouvel Eyeliner High-Pigment Longwear apporte une intensité sans précédent en un seul passage. Sa formule fluide, de type gel, glisse sans effort et dépose instantanément une couleur riche. Celle-ci se fixe exactement là où vous le souhaitez et reste en place pendant 12 heures. Sa pointe à tailler définit les bords internes de l'œil et crée une ligne de cils floutée. Disponible dans 16 teintes, allant du mat au métallique. Tenace. Résistant. Irrésistible. Rien ne l'arrête.
DÉTAILS :
Tenue 12 heures
Résistant à l'humidité
Résistant à la sueur
Résistant à l'eau
Sans transfert
Peut se tailler
RENDU INTENSE ET INSTANTANÉ DE LA COULEUR

Une formule unique, qui glisse sans effort et offre un rendu riche et immédiat de la couleur.

COULEUR RICHE LONGUE TENUE

Sa formule gel longue tenue glisse en douceur sans accrocher ni déraper, et dure jusqu'à 12 heures.

APPLICATION POLYVALENTE POUR DE NOMBREUX LOOKS

Ce pinceau créatif est parfait pour dessiner une ligne précise, utiliser la technique du tightlining, estomper la couleur pour un effet smoky et appliquer du maquillage sur le bord interne de l'œil.
Pour une ligne précise façon tightlining :

VIA VENETO, une nuance noire pour le quotidien, peut être utilisée pour une application polyvalente.
Soulevez délicatement la ligne supérieure des cils et remplissez les espaces vides entre les racines des cils.
Continuez de tracer le trait le long du bord interne de l'œil, au niveau de la paupière supérieure, pour assombrir la ligne des cils.

Pour un look smoky :

appliquez GRAN VIA, une teinte noir profond, pour un regard brûlant.
Tracez un trait le long de la ligne des cils, puis estompez en progressant vers l'arête.
Superposez une ombre à paupières d'une nuance profonde, puis estompez et répartissez-la.

Conseils de pro :

utilisez THE STRIP comme base pour toute ombre à paupières afin d'ajouter un effet froid et lumineux, ou RODEO DRIVE pour apporter une nuance chaude et dorée.
Tracez un trait le long du bord interne de l'œil avec la teinte RUE BONAPARTE pour créer l'illusion d'un regard plus « éveillé » et éclatant, ou avec SANTA MONICA BLVD pour l'agrandir.
DIMETHICONE · SYNTHETIC WAX · TRIMETHYLSILOXYSILICATE · C20-24 ALKYL DIMETHICONE · SILICA · PHENYLPROPYLDIMETHYLSILOXYSILICATE · DICALCIUM PHOSPHATE · POLYETHYLENE · CALCIUM SILICATE · DISILOXANE · PENTAERYTHRITYL TETRA-DI-T-BUTYL HYDROXYHYDROCINNAMATE · RUBUS IDAEUS (RASPBERRY) LEAF EXTRACT · CAPRYLIC/CAPRIC TRIGLYCERIDE · POLYHYDROXYSTEARIC ACID · DISTEARDIMONIUM HECTORITE · PROPYLENE CARBONATE · SYNTHETIC FLUORPHLOGOPITE · CALCIUM ALUMINUM BOROSILICATE · CALCIUM SODIUM BOROSILICATE · TIN OXIDE · [+/- (MAY CONTAIN/PEUT CONTENIR): MICA · TITANIUM DIOXIDE (CI 77891) · BLUE 1 LAKE (CI 42090) · CARMINE (CI 75470) · FERRIC AMMONIUM FERROCYANIDE (CI 77510) · IRON OXIDES (CI 77491) · IRON OXIDES (CI 77499)] ·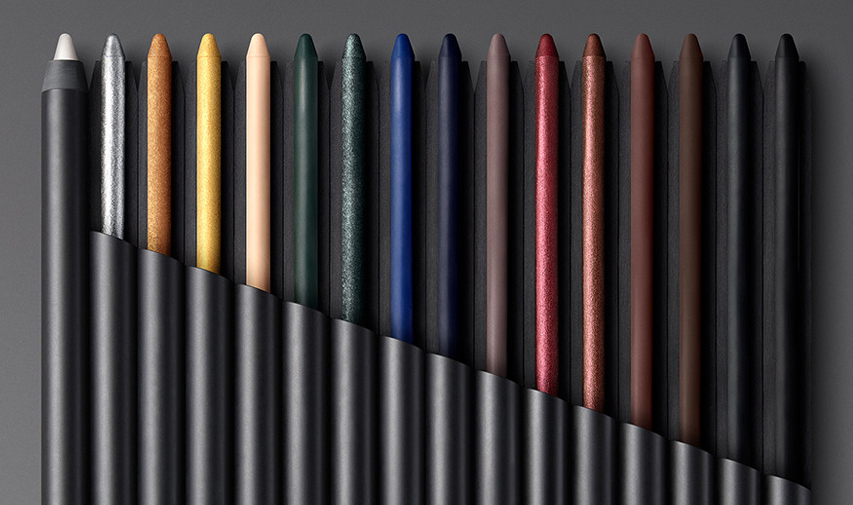 High-Pigment Longwear Eyeliner
est évalué de
5
de
244
.
Rated

1

de

5
de
Swoosan
par
Eyeliner
Difficult to use - doesn't apply smoothly.
Date de publication: 2021-04-08
Rated

1

de

5
de
Jjchill
par
Terrible
Unless my high pigment black eyeliner pencil was flawed, Im very disappointed. I have had for only 3 weeks and its flattened down to nothing. I only wear it 3 times aweek, and for the price of $31.00, Iost definitely wont be a returning customer to Nars.
Date de publication: 2021-04-07
Rated

1

de

5
de
Mid-30s reviewer
par
Disappointing eye pencil
I would not recommend this eyeliner pencil. I really like the formula of NARS velvet lip pencils, but this did not live up to other products. The cap to my pencil was on so tightly I could not pry it off, and the pencil snapped in this process. I was able to sharpen the pencil from the inside out, but the product itself was dry and did not glide on easily (not much pigment, pulled at eyelids). Prefer to keep using Quickliner Pencils from Clinique.
Date de publication: 2021-04-05
Rated

1

de

5
de
SMCG
par
Worst eyeliner ever
Does not sharpen Works perfectly until you need to sharpen it Not worth the high price tag Very disappointing
Date de publication: 2021-04-02
Rated

1

de

5
de
CRC
par
Bring back the old Via Appia roll-up eye liner
Please bring back Via Appia roll-up eyeliner. The replacement pencil end snaps off, it's happened to the last four I've bought and the pencil subsequently dries out. Been a loyal customer for years, now shopping around for another make-up brand to switch to. LISTEN TO THE CUSTOMER FEEDBACK!
Date de publication: 2021-04-02
Rated

1

de

5
de
Miss Wolff
par
Bring back the old roll-out version!
I bought your new version of this eyeliner and I am greatly disappointed. I have been a super loyal Nars-user for as long as I can remember, especially of your Larger Than Life Eyeliner. It was perfect. There was absolutely no problem with it at ALL. It was easy to use and had a fine sustainability. Your new version is impossible to figure out. There are no instructions on how to use it, and there is certainly no mentioning of a pencil sharpener. I was very happy with the roll-out version. Now I have to carry around a pencil sharpener wherever I go and that is super annoying. It feels like you are changing the product for the consumer to use it faster, so you can make more money. BRING BACK THE OLD ROLL-VERSION, PLEASE!
Date de publication: 2021-03-27
Rated

5

de

5
de
Mandalou
par
The Best Under Eye Liner
I don't understand the negative reviews. I had absolutely no issue sharpening this with a cheap drug store sharpener. It doesn't smudge and is one of the few liners that doesn't leave me looking like a raccoon. It lasts all day and the formula is so smooth. I will definitely purchase more!
Date de publication: 2021-03-21
Rated

1

de

5
de
Cristi
par
I love this but....
Cant figure out how to wind it up. its plastic so you cant sharpen it. love the product but not the fact its a once only use
Date de publication: 2021-03-16
Rated

4

de

5
de
AMuD
par
Love the shade
Love the shade of blue. Was looking for a electric blue shade for a while. But the quality of the pencil could be better. Also would prefer a twister pencil. Sharpening is messy.
Date de publication: 2021-03-13
Rated

1

de

5
de
Kyevocadi
par
Deceiving
Not at all waterproof, sweat proof, or cry proof! I paid 20 bucks for this! What the heck!!
Date de publication: 2021-03-13
Rated

1

de

5
de
Anonyme
par
Impression
Je ne suis pas du tout satisfaite de ce stylo. On ne sait pas le manipuler pour faire sortir la mine. C'est un désastre.
Date de publication: 2021-03-10
Rated

5

de

5
de
Nancie S
par
Long wear eyeliner pencil
Love this eyeliner! It glides on easily and lasts for hours!
Date de publication: 2021-03-08
Rated

1

de

5
de
NurseT
par
No way to advance eyeliner.
I used this exactly twice before the "pencil" portion flattened out and there was no way to advance it or sharpen it. I finally removed the opposite end to find dried pencil remains inside, totally un-usable. Very disappointed with the ridiculous "design."
Date de publication: 2021-03-07
Rated

5

de

5
de
Blondie2010
par
Stays On!
My favorite eyeliner ever - soft and easy to apply, even inside the rim of the eye (if you sharpen it correctly), and does not smear or disappear - even after all day! Got it in my Ipsy Feb 2020 bag, and am now ordering 2 more!
Date de publication: 2021-03-07
Rated

1

de

5
de
Ab49
par
Impossible à utiliser
Comme l'ont dit d'autres utilisatrices, je suis dans l'incapacité d'utiliser ce crayon : très difficile d'enlever le capuchon, impossible de le tailler et de faire avancer la mine. Hyper déçue, j'espère un geste commercial.
Date de publication: 2021-03-06
Rated

3

de

5
de
Tóxica
par
I miss when this eyeliner had a sharpener at the end of it. I really think you guys should bring that one back. I've always bought this Nars eyeliner and remembered the sharpener and is my favorite eyeliner for under eye . Please bring that one back !
Date de publication: 2021-03-01
Rated

5

de

5
de
C Radford
par
For great eye colour!
Highly pigmented and stays on all day. I can do plenty of looks, ether around the eye or smudge over the lid. Can blend well with eye shadow
Date de publication: 2021-02-25
Rated

5

de

5
de
Coffeeis4thebirds
par
Great eyeliner, stays put and rich
I don't know why there are so many bad reviews - the description clearly says you have to sharpen it. In any event, I received mine in the Feb Ipsy kit and I absolutely LOVE it! I was normally faithful to liquid eyeliner, but I love this one so much this is no my go-to. It glides on smooth (even over eyeshadow) - both thin and thick. It stays on from morning until nighttime, even when I was sweating a bit. I will be ordering the full size one in the black, but it opens and sharpens just fine!
Date de publication: 2021-02-24
Rated

4

de

5
de
Florie
par
Super produit effet garanti
Surprise agréable de ce crayon un seul passage et c'est bien dessiné
Date de publication: 2021-02-23
Rated

1

de

5
de
EllenB
par
So disappointed
Loved the larger than life - there wasn't another eyeliner on the market like it. I was a NARS ride or die fan. Now looking other places. Please bring it back.
Date de publication: 2021-02-22
Rated

1

de

5
de
Jmakeup
par
High Pigmented Longwear Eyeliner
The pencil liner is not really long wear, it smudged after just an hour or so of wearing it making my under eye all black.
Date de publication: 2021-02-20
Rated

1

de

5
de
MJ22
par
Can't open, can't sharpen
I just received this from Ipsy. Terrible packaging and product. I had to use pliers to twist off cap. I can't twist to advance or sharpen tip.
Date de publication: 2021-02-19
Rated

1

de

5
de
Penny22
par
Can't use
I agree they should not have discontinued the other pencils- the one they replaced this one with as well as the kohliner. I liked the roll up pencils. This one is impossible to sharpen even with the Nars sharpener. It goes on messy because the tip is never sharp.
Date de publication: 2021-02-19
Rated

1

de

5
de
bruck009
par
Why so hard to open?
I received this Nars eyeliner from Sephora and broke it trying to get the cap off..got another one and same issue? There isnt any wrap or anything on it...how do you use this?
Date de publication: 2021-02-18
Rated

1

de

5
de
AllieF
par
Used to be holy grail
Larger than life used to be my holy grail in Via Veneto. I have now returned this twice, because I could not figure out how to sharpen or twist up. Also, the formula is MUCH different. It used to stay all day. Now it bleeds onto my skin within the first few hours. Will be finding a new eyeliner from now on. Why fix what wasn't broken?
Date de publication: 2021-02-17
Rated

1

de

5
de
Irina
par
Hard to use
Easy to sharpen, but nothing like a regular pencil, regret that went with this one. Hard to apply on high shine eye shadows, it just slides, without leaving a line.
Date de publication: 2021-02-15
Rated

2

de

5
de
Heidi 123
par
No twist up??? Ugh
Had the damndest time figuring out this product needed a sharpener. Ugh so disappointed.
Date de publication: 2021-02-07
Rated

1

de

5
de
Mlitton
par
New formula is terrible
Nars eyeliner in Via Veneto has been my holy grail for years, but once they introduced the new formula, I was forced to stop buying it due to extremely poor staying power, precision and control. I cannot express how sad I am that they've changed the formula rather than adding a completely new eyeliner since they are nothing alike. My old pencil would last me months and was impossible to smudge. The new version is far too soft, gives me raccoon eyes and dwindles down to a nub within a month because it's impossible to keep a sharp point without constantly sharpening the pencil. I've tried so many brands in attempt to find a suitable replacement, but nothing compares to their original formula. Customer satisfaction and reviews are suffering. PLEASE BRING BACK THE ORIGINAL!!!!
Date de publication: 2021-01-31
Rated

1

de

5
de
Julie50
par
Not the same as my past Nars eyeliners
I wish I'd read the reviews before purchasing. My past eyeliner pencils looked different (wood end) and sharpened easily and lasted a very long time. After one try, I see Nars has changed up their pencils. This one is not acceptable. Doesn't go on smoothly, had specks all over my face and not usable on waterline. Wish I could find the older version! I'll be sending back.
Date de publication: 2021-01-25
Rated

1

de

5
de
cellcen
par
IMPOSSIBLE TO USE
I am not getting a sharp tip from sharpening, and the tip breaks off easily. The tip broke off on the first try. I kept trying to apply it gently but it's been broken off three times so it's impossible to use.
Date de publication: 2021-01-23
bvseo_sdk, dw_cartridge, 16.1.1, p_sdk_3.2.0
CLOUD, getContent, 162ms
reviews, product